CMOS VOLTAGE REFERENCE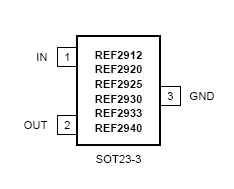 REF2912 1.25V
REF2920 2.048V
REF2925 2.5V
REF2930 3.0V
REF2933 3.3V
REF2940 4.096V
The REF29xx is a precision, low-power, low-voltage dropout voltage reference family available in a tiny SOT23-3. The REF29xx small size and low power consumption (50μA max) make it ideal for portable and battery-powered applications.
The REF29xx does not require a load capacitor, but is stable with any capacitive load.
Unloaded, the REF29xx can be operated with supplies within 1mV of output voltage. All models are specified for the wide temperature range, –40°C to +125°C.
적용보드
[DSP2812 EVM] 보드